A beautiful house deserves a beautiful Wrought Iron door - one to set the tone of warmth, elegance and grandeur. Each Wrought Iron Door is custom made for the home, with a sense of style and authority.
Our doors come with a range of features that make them more versatile, secure and convenient.
Strong Wrought Iron for security, longevity and peace of mind
Open Window Design removes the need for a fly screen door
Bold double or single door designs to fit any frame
K.D. Hardwood Timber
Made with Traditional Mortise and Tenon Joints
Providing excellent security, functionality and style to the home, our Wrought Iron Doors are a stand out.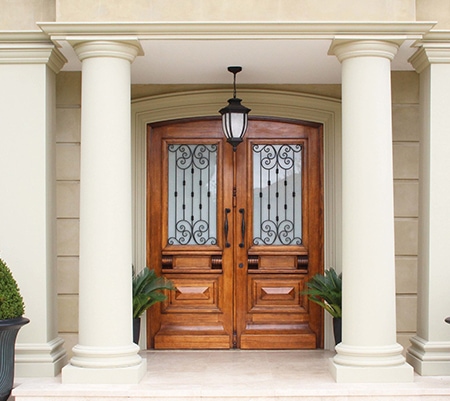 Hinged Glass Panels
Each of our Wrought Iron Doors is able to come with a window option.
This removes the need for extra fly screen doors, allowing fresh air to enter your home freely and easily.
Energy Efficient Glass
Convenience
Fly Screen Window